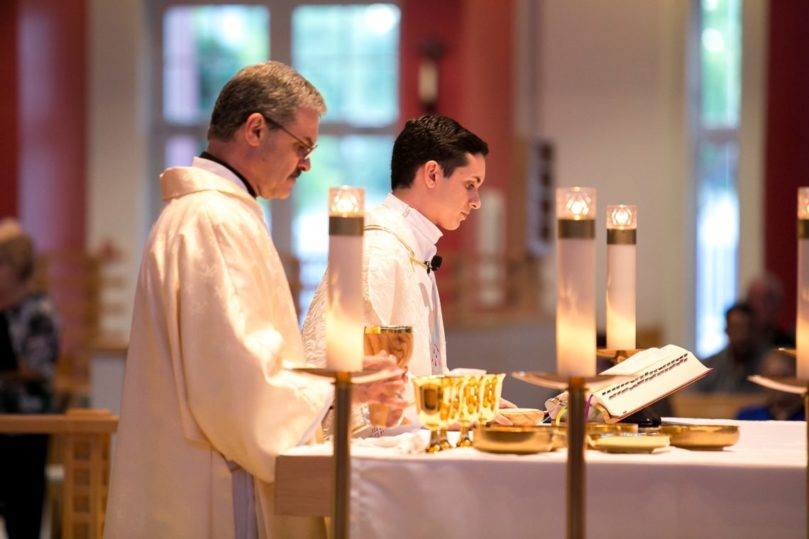 Our seminary family mourns the loss of Deacon Carlos Garcia (shown here with his son, Fr. Michael Garcia, an alumnus of St. John Vianney and pastor of St. Coleman Catholic Church). Deacon Carlos was simply an amazing human being, a truly good man, a loving father, a devoted husband to his wife, a caring seminary formator and friend, a compassionate and hardworking minister, and a true disciple of Jesus Christ. Deacon, we are all blessed to have known you, to have workedwith you, and to have journeyed with you on the path of ministry, serving, forming and educating God's future priests. We will miss you terribly, but we find consolation and peace in knowing that you who have so loved the Lord throughout your life, now rest in his embrace, and that we now have a powerful advocate and friend in His presence.
Due to the seminary's remaining on lock-down for the Spring Semester because of the ongoing pandemic, and our inability to have guests, the funeral Mass for Deacon Carlos will be live-streamed by the seminary's I.T. Department (which deacon headed). Please join us Online at 10:00 AM, Monday, Jan. 25th. We ask our priest friends to please offer a Mass in deacon's memory, and our lay friends to remember in your prayers, our dear formator, mentor and friend. We ask for prayers for deacon's family, and for the seminarians of St. John Vianney. Deacon was so instrumental in keeping them safe for almost a year now. We all will miss him.

Rest in peace, good deacon. Pray for us. Until we meet again in the Father's house. - Your loving family at St. John Vianney.
Click here to watch the Funeral Mass Online on Facebook Live